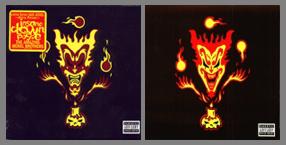 Title: The Amazing Jeckel Brothers
Release Date: 1999
Tracklist:
01. Intro
02. Jake Jeckel
03. Bring It On
04. I Want My Shit
05. Bitches
06. Terrible
07. I Stab People
08. Another Love Song
09. Everybody Rize
10. Play With Me
11. Jack Jeckel
12. Fuck The World
13. The Shaggy Show
14. Mad Professor
15. Assassins
16. Echoside
17. Nothing's Left
Info: The Amazing Jeckel Brothers, The Fifth Joker's Card, and another change in style of ICP's music. Centered on Jack "the sinister" and Jake "the just". These two jugglers pass balls symbolizing your sins, Jack trying his best to make Jake fumble and drop a ball and with that ending your judgement and descending you to Hell...and likewise. This album features appearances by Ol' Dirty Bastard, Snoop Dog and Twiztid.
Meaning: The Amazing Jeckel Brothers are Jake and Jack Jeckel. Jake is good, and cares for the well-being of people, while Jack is sinister and evil. When you die these two spirits juggle your sins. For each sin you committed in your life, a ball is added to their juggling act, making it harder for them to perform. If they drop a ball you go to Hell, if not, you will enter into Shangri-La. To make matters worse, Jack is trying to mess Jake up, just for the fun of it.